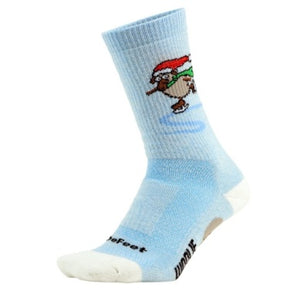 DeFeet WOOLIE BOOLIE 6" HOLIDAY LAMBERT Socks
Regular price $24.99 Sale
Woolie Boolie 6" Holiday Lambert ribbed crew athletic cycling sock is a thick wool sock in light blue with Lambert, the DeFeet woolie sheep mascot, enjoying a little seasonal ice skating in a festive red Santa hat and green scarf.

The DeFeet Woolie Boolie is their cushiest sock, with a cult following for all the right reasons: woolie warmth, padded comfort, and durability.
Made in the USA.
Find your shoe size on the chart to determine the best DeFeet sock size.
| DeFeet | S | M | L | XL |
| --- | --- | --- | --- | --- |
| Women | 6-8 | 8.5-10.5 | 11-13 | - |
| Men | 4.5-6.5 | 7-9 | 9.5-11.5 | 12-14 |
| EU | 36-39.5 | 40-42.5 | 43-45.5 | 46-48 |
Shane Cooper arrived in the US from England at the age of four. His father distributed knitting machines. Shane grew up around knitting machines, but was always more interested in bicycles and music. It wasn't until the early 90's that he decided to turn his attention entirely toward knitting. In 1992, DeFeet was born! The first product was a totally customizable, open-mesh weave airflow sock. The world's top endurance athletes took notice immediately.

Even though there is less knitting and less manufacturing in the US now than when Shane's father emigrated, DeFeet will not join the outsourcing movement that has become too easy for companies in the US. They have always been and will always be a custom shop, utilizing their own in-house designs and those of artisans that want to see their creations come-to-life on the most durable, best-performing socks available. All DeFeet products are made in the USA.