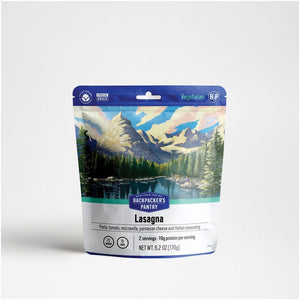 Backpackers Pantry Vegetarian Lasagna
Regular price $10.00 Sale
Backpacker's vegetarian entrees for 1 - 2 people. Weighs 11-14 oz.
While Backpacker's Pantry has always offered a wide range of gourmet backpacking meals, back in the 70's & 80's people didn't care as much about recipe variety or dietary restrictions and preferences. Those who were adventuring, simply needed to eat food that was lightweight & convenient. In fact, it wasn't until the late 80's and 90's, when backpacking and the outdoor industry truly began to take off.

In the past decade or so, Backpacker's Pantry has focused on creating authentic recipes, using healthy & sustainable ingredients, making environmentally sound business decisions, and increasing philanthropic efforts. The company has become 100% solar powered, has offset all carbon emissions from shipping and plans to produce sustainable packaging in the new future.