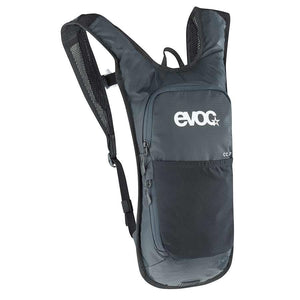 Evoc CC 2 + 2L Bladder Hydration Pack
Regular price $70.00 Sale
The EVOC CC 2l is a very handy, ultralight backpack. It's Evoc's minimalist hydration pack solution.
SPECIFICATIONS
AIR TUNE SYSTEM offers a maximum of back ventilation
Accommodates hydration systems up to  2 l
Cellphone pocket
Volume:     2L
Weight:     190g
Size:         20 x 37 x 3 cm
Materials: Nylon 210/D Ripstop PU Coated, P600/D PU Coated, 3D Air Mesh, Air Mesh
Imported.
The founders of EVOC have been travelling the globe together for years even before EVOC actually existed. Always in search of the perfect trail or the perfect decent – and always in need of bags and backpacks that would endure this permanent strain and still offer the required features.  Whether they are cycling Himalaya to Mt Everest, snowboarding in the Arctic Circle or riding jungle downhills in Cambodia – there was never a lack of good trails or incredible powder lines. There was an issue however. The bags that they used never quite fulfilled their needs. This meant that they'd need to make the bags themselves. Their love of sport and traveling, combined with years of experience in bag and backpack development, was transferred directly to the function of the product.