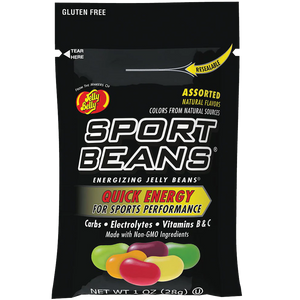 Jelly Belly Energizing Sport Beans Assorted Natural Flavors
Sport Beans Energizing Jelly Beans are formulated to help fuel the body during intense exercise. Clinically proven to maximize sports performance, each bean is loaded with carbs for fuel, electrolytes to help maintain fluid balance and vitamins to optimize energy release and protect cells against oxidative damage. There has surely never been a more delicious way to get the most out of your workouts.
Designed for athletes, Sport Beans are specially formulated with carbs, electrolytes, and vitamins B and C to fuel the body during intense activity.
Fast, great-tasting energy source
Contains the carbs, sodium, and potassium essential for metabolizing carbs and preventing dehydration
Made with natural flavors and colors from natural sources
Made in the USA from US and imported ingredients.

Jelly Belly started as a confectionary maker whose roots date back to the 1800's.  Jelly Belly Sport Beans® jelly beans are a first-of-its-kind carbohydrate replenishment for sports performance.