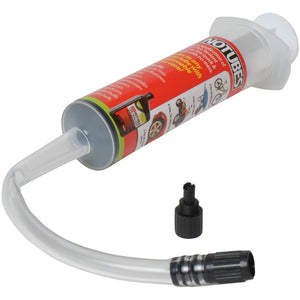 Stan's NoTubes Tire Sealant Injector Syringe (Presta and Schrader)
Graduated two ounce injector makes application of tubeless tire sealant simple, with no mess or waste of sealant.
Allows for easy sealant installation and removal through the tire valve.
Compatible with Schrader and Presta valves
Graduated cylinder for accurate sealant measurement
Imported

It all started in 2001, when a rider named Stan Koziatek had an idea. Frustrated with punctured inner tubes and believing mountain bike tires could perform better without them, Stan developed a way to replace inner tubes with a liquid sealant. Stan's system created a tire that sealed itself almost instantly when punctured, but that was only the beginning. With no inner tube, tires treated with Stan's sealant offered more traction, more control, and more comfort. They also rolled faster. The performance advantages were tremendous, and soon racers at the highest levels of the sport were asking Stan to help them go tubeless.