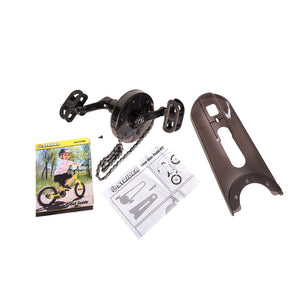 Strider Pedal Kit for 14x Bike
Regular price $49.99 Sale
Stock: 0 left
The Strider Easy-Ride Pedal Kit is the ultimate upgrade for the Strider 14x Sport. The Easy-Ride Pedal Conversion Kit attaches to the 14x Sport in a matter of minutes and makes installation simple and hassle-free.
Features Stride-Around pedals, with a rounded surface for kid-friendly use
Includes chain guard, chain and instructions for installation
Imported.
Strider's mission is to build lightweight, efficient, all-terrain bikes that develop two-wheeled balance, coordination, and confidence in children.