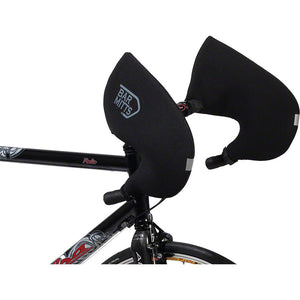 Bar Mitts Road Handlebar Mitten Pogies for Drop Handlebars with Internally Routed Campagnolo / SRAM / Shimano
Regular price $74.95 Sale
A neoprene pogie designed to work with drop handlebar in which the brake/shifter cables are routed underneath the bar tape.
Waterproof, 5mm neoprene construction with nylon lamination inside and outside
Attaches to handlebars - can be easily installed and removed for temperature changes
Can be used with regular cycling gloves of varying thickness
Reflective material on seam and logo
Stays open allowing easy access and removal of hands
Opening measures 9" across
Imported.
Pretty much the only thing Bar Mitts makes are pogies!  They are specialists in keeping your hands comfortable.