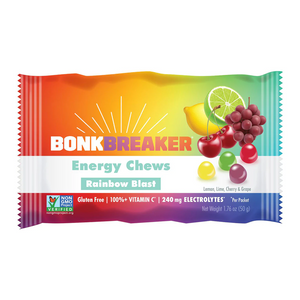 Bonk Breaker Rainbow Blast Energy Chews with Caffeine
Chew the rainbow with a mix of Lemon, Lime, Cherry and Grape Energy Chews – all in one packet! A medley of favorite flavors and packed with vital electrolytes, Rainbow Blast Energy Chews give you clean, easily digestible, great-tasting fuel to energize your day! Rainbow Blast Energy Chews are a tasty and nutritious product that pack over 100% of your Vitamin C daily value in one packet! Just as you'd expect, our Rainbow Blast Energy Chews are Gluten-Free, Soy-Free, & Dairy-Free.
Made in the USA from imported and US ingredients.

1.76 oz pack - approx 8 chews per pack
Bonk Breaker is obsessed with endurance sports, and they know that whether you're training for an event or competing in one, how you feed your body matters. A lot. What's more, they've learned that what you put into your body affects what you get out of it—not only in results but in helping you enjoy the experience.
More than 15 years ago, Bonk Breaker's founder, Jason Winn, took this idea to the next level, making it his mission to create delicious, easy-on-the-stomach performance fuel made from real food and designed for athletes of all kinds. After launching the PB&J energy bar, a melt-in-your-mouth mix of incredible flavor and quality nutrition, Bonk Breaker was born.