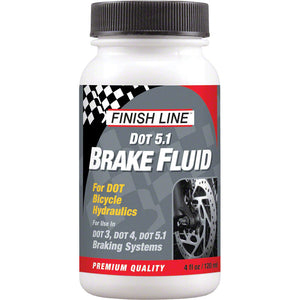 Finish Line DOT 5.1 Brake Fluid, 4oz
Specifically engineered for use in bicycle brake systems and is compatible with all current brakes. It has a super low viscosity that provides great lever response, pad retraction, and consistent performance through a full range of operating temperatures.
Prevents foaming and overheating
Exceeds the most stringent 5.1 fluid specifications
Provides maximum fluid life and braking performance, even at low temperatures
Made in USA.
Finishing Line's original mission statement from 1988 was: "Develop premium quality and performance-enhancing bicycle lubricants. Formulate them with ingredients that respect the environment. Market them honestly. Price them fairly."  Now they make more than just lubricants, but everything else about that original mission statement still holds true.