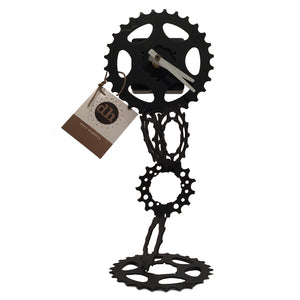 Gravity-Defying Gear Clock
Regular price $50.00 Sale
This fun desk clock has a face of about 5 inches that is supported by smaller gears. A great gift for any cycling enthusiast!  Each clock will vary slightly since the gears are all unique. It requires an AA battery which is not included.
Assembled in the USA of foreign and domestic components. 
It is about eleven inches tall.   This varies slightly piece-to-piece.
Sculptor Dave Hardell started over 20 years ago in Blacksburg, VA. Before sculpting, he was trained as a custom goldsmith and managed a jewelry studio for 10 years. Metal has always been a passion for him so he became a self-taught welder. He currently holds 13 certifications for different welding techniques. He likes to use recycled materials, or found objects whenever possible.