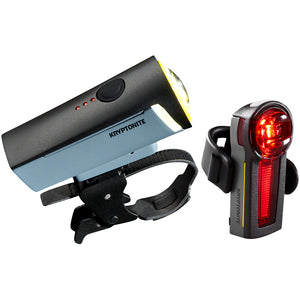 Kryptonite Incite X3 Headlight, XR Taillight Set
Regular price $79.95 Sale
The Kryptonite Incite X3 /XR headlight and taillight set combines each light's features into one convenient package. The X3 uses double lens technology to provide higher quality, precise light distribution up to 30 lux. 5 Modes of lighting provide 4-24 hours of battery life before needing recharging via USB. Side lights increase safety providing more visibility, and LED indicators display remaining battery life. The XR taillight provides high visibility in a compact, easy to mount package. 5 Modes for 18-36 hours of runtime before needing a recharge via USB.
Rear light bracket with flexible mounting options can be rotated 180°for seatstay mounting
Imported.
In 1971, with $1500, some ingenuity, creative security ideas, and a Volkswagen van, Michael Zane was able to invent the first U-Lock and travel around the US spreading the message of need for bicycle security. Thus, Kryptonite was born.

A legendary test for Kryptonite's new bicycle locks came in 1972. The Second Avenue Bicycle Shop in New York City locked a three-speed bicycle to a signpost in Greenwich Village under Kryptonite founder Michael Zane's direction. Although all of the removable parts were immediately stripped by thieves, the bicycle itself remained for thirty days and thirty nights. The Kryptonite lock and the bike frame were still in place, even though the lock had been attacked numerous times. Publicity from this event gave Kryptonite the boost it needed, forever changing the face of bicycle security.   They have now expanded to include quality lighting products.