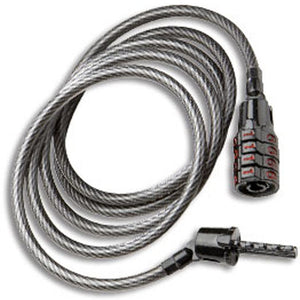 Kryptonite Keeper 512 Combo Cable Deterrent Lock
Regular price $10.99 Sale
This combination lock with an integrated 4 feet long vinyl-covered cable is meant to deter theft, not prevent it. It is good if you want to prevent someone from accidentally grabbing your bike instead of their own from a crowded bicycle parking area.  Also good if it's a safe area but you want to have a lock on your bike to make a casual criminal think twice.  Also good to lock your helmet and accessories to your bike when your bike has a strong theft prevention lock.  The lock is colored black. The cable is about 3/16" thick and covered in dark smoke-colored vinyl to prevent scratches..  
Imported.
In 1971, with $1500, some ingenuity, creative security ideas, and a Volkswagen van, Michael Zane was able to invent the first U-Lock and travel around the US spreading the message of need for bicycle security. Thus, Kryptonite was born.

A legendary test for Kryptonite's new bicycle locks came in 1972. The Second Avenue Bicycle Shop in New York City locked a three-speed bicycle to a signpost in Greenwich Village under Kryptonite founder Michael Zane's direction. Although all of the removable parts were immediately stripped by thieves, the bicycle itself remained for thirty days and thirty nights. The Kryptonite lock and the bike frame were still in place, even though the lock had been attacked numerous times. Publicity from this event gave Kryptonite the boost it needed, forever changing the face of bicycle security.