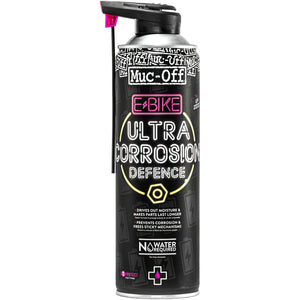 Muc-Off eBike Ultra Corrosion Defense
Regular price $17.99 Sale
Introducing the ultimate protection for bike batteries and components. eBike Ultra Corrosion Defense uses state of the art anti-corrosion additives and inhibitors to provide class-leading protection against corrosion. It even works on surfaces that already have rust and corrosion... it simply stops rust in its tracks. It drives out moisture and leaves a protective anticorrosive layer on your bike's frame, battery casing, battery terminals, metal parts, plastics and paintwork to keep the harmful effects of moisture at bay.
NOTE: MASK BRAKING SURFACES BEFORE APPLICATION
Penetrates and protects
Non-drying film
Rust preventing/anti-corrosion
Ideal for protecting battery terminals and casings
Resistant to hot, cold and salt water
Imported.

Rex and Marilyn Trimnell got things started with X-Lite UK waaaay back in 1991.  After designing and manufacturing the world's first twin crown bicycle fork, Rex created a perfectly pink spray to clean his kit. To make a long story short, Rex's cleaner was the best thing since sliced bread, and it wasn't long before word got out and Muc-Off was born.  Today, Muc-Off is now the go-to brand for top riders and racers.