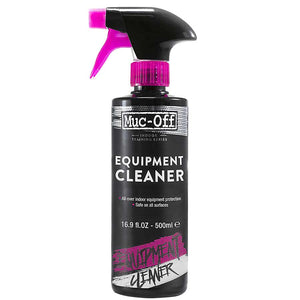 Muc-Off Antibacterial Indoor Training Equipment Cleaner 500 ml (16.9 fl oz)
Regular price $13.99 Sale
You train to get fitter and stronger so why train riding a germ fest?! Muc-Off's indoor training cleaner is an advanced all-purpose cleaner for all indoor trainers and gym equipment. Suitable for: Aluminium, stainless steel, carbon, plastic and vinyl. Just spray and wipe. No rinsing necessary.
Safe on all surfaces
Ensure you can train in a clean and healthy environment
Apple fragrance
Made in the United Kingdom.
Rex and Marilyn Trimnell got things started with X-Lite UK waaaay back in 1991.  After designing and manufacturing the world's first twin crown bicycle fork, Rex created a perfectly pink spray to clean his kit. To make a long story short, Rex's cleaner was the best thing since sliced bread, and it wasn't long before word got out and Muc-Off was born.  Today, Muc-Off is now the go-to brand for top riders and racers.