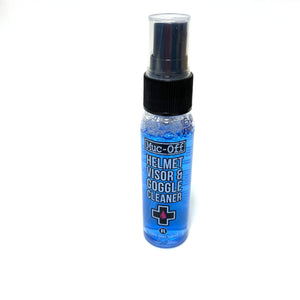 Muc-Off Helmet Visor and Goggle Cleaner
Visor, Lens & Goggle Cleaner quickly and safely removes dirt, dust, grime, snow, sweat and oily residue from all helmets, eyewear and goggles. Its been formulated using de-ionised water as recommended by many helmet manufacturers and it's safe to use on all lens materials including polycarbonate. Visor, Lens & Goggle Cleaner uses pH neutral soaps. It's biodegradable and contains no solvents or harmful chemicals.
Formulated using de-ionised water
pH neutral formula as recommended by helmet manufacturers
Free from solvents and harmful chemicals
Biodegradable
Made in the United Kingdom
Rex and Marilyn Trimnell got things started with X-Lite UK waaaay back in 1991.  After designing and manufacturing the world's first twin crown bicycle fork, Rex created a perfectly pink spray to clean his kit. To make a long story short, Rex's cleaner was the best thing since sliced bread, and it wasn't long before word got out and Muc-Off was born.  Today, Muc-Off is now the go-to brand for top riders and racers.