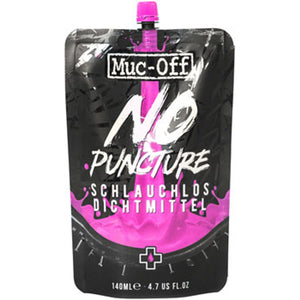 Muc-Off No Puncture Tubeless Sealant, 140 ml Pouch
No Puncture performs under the most brutal race conditions. The cutting-edge microfiber molecules fill the bigger holes and tears, while the advanced latex forms a strong seal instantly. MJuc-Off's formula also contains a unique UV detection system that highlights any punctures you haven't seen during your ride. No Puncture is non-corrosive, biodegradable and easily washes off with water. Compatible with tubeless ready and full UST wheels/ tires, No Puncture works from 15psi-120psi and temperatures from -20°C to +50°C.
Seals tears and holes up to 6mm
Contains UV puncture detection
Seals porous tires and bead/rim gaps
Lasts 6+ months before you need to top up
Won't dry out or ball up
Made in the United Kingdom
Rex and Marilyn Trimnell got things started with X-Lite UK waaaay back in 1991.  After designing and manufacturing the world's first twin crown bicycle fork, Rex created a perfectly pink spray to clean his kit. To make a long story short, Rex's cleaner was the best thing since sliced bread, and it wasn't long before word got out and Muc-Off was born.  Today, Muc-Off is now the go-to brand for top riders and racers.