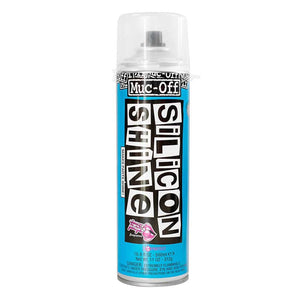 Muc-Off Silicon Shine Lube - 500ml
Regular price $12.99 Sale
Silicon Shine not only leaves your bike looking factory fresh, but it also acts as an amazing friction reducer for suspension parts and reduces dirt adhesion. Spray it onto your fork stanchions and rear shocks to reduce resistance for a silky smooth, World Cup performance.
Protects and leaves a sparkling shine on metal, plastic & rubber parts
Reduces friction on fork stanchions and rear shocks
Silicon formula prevents grime build up on treated surfaces
Cuts down on future cleaning and maintenance
Made in the United Kingdom
Rex and Marilyn Trimnell got things started with X-Lite UK waaaay back in 1991.  After designing and manufacturing the world's first twin crown bicycle fork, Rex created a perfectly pink spray to clean his kit. To make a long story short, Rex's cleaner was the best thing since sliced bread, and it wasn't long before word got out and Muc-Off was born.  Today, Muc-Off is now the go-to brand for top riders and racers.