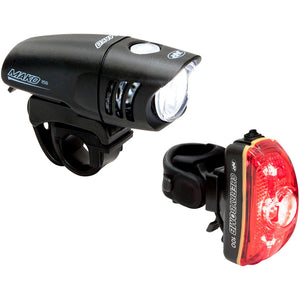 NiteRider Mako 250 Headlight and CherryBomb 100 Taillight Set
Regular price $44.99 Sale
This battery-powered headlight/taillight set combines the Mako 250 headlight with the Cherrybomb 100 taillight.  Batteries are included... the headlight uses AA batteries and the taillight uses AAA.

Imported.
NiteRider began by accident and by necessity. Tom Carroll, a fanatical athlete and outdoors man from Southern California had a problem. The best surf around was better at night, after the crowds had gone home. Since there was nothing even remotely usable to light up the waves, Tom had to design a solution from scratch.

A builder and designer by trade and inventor by passion, Tom was obsessed with making his lights the best. His second attempt defined everything that a light for "extreme sports" had to be – waterproof, very bright, lightweight and hands free. What he found is that it not only worked for surfing, but for the long bike trails that accessed those perfect, hidden breaks.

Tom and his wife Veronica built NiteRider at their kitchen table, working hard all day and then coming home to design, assemble and ship their lights by night. To this day, they still run NiteRider – designing and building the lights with the same meticulous attention to detail to ensure their customers have the best product available.

Tom still answers the phone, listens to his customers needs and helps them with service. They live the NiteRider lifestyle and know how important top quality and performance is…To them, NiteRider is not just a business, it is personal.