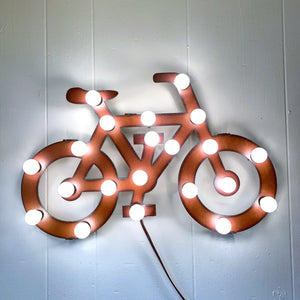 Rustic Illuminated Bike Wall Decoration
Regular price $79.99 Sale
An illuminated rustic metal bike to make your room look nothing less than awesome.  It's got 21 to 23 lights (each may be a little different than the next) and is quite an eye-catcher.  There's an in-line power switch to turn it on and off.  It easily hangs on the wall with two nails or hooks (not included).  These are hand made so their appearance may vary slightly.  For example, the bike may face to the left, or to the right. 
Made in the USA.
About 20 to 22 inches wide, 13 to 14 inches high, and it projects out from the wall about 3" including the lights.
Christine and Callie have a love of rustic and rusty metals. They started their business many years ago doing local retail shows selling rusted metal creations. A lot of heart and soul goes into their work and their small business. Rusty metal is their life!