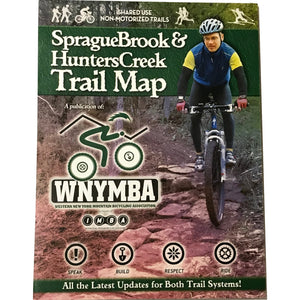 Sprague Brook & Hunters Creek Trail Map by WNYMBA
Regular price $10.00 Sale
The Western New York Mountain Bicycling Association has done a bang-up job preparing this map of mountain biking trails in Sprague Brook and Hunters Creek Parks, both found in Southern Erie County, NY.  It is folded and in color. It's got Sprague Brook Park on one side, Hunters Creek Park on the other.   Your purchase helps support the great work of WNYMBA.
When unfolded it measures about 18" x 12" (about 6" x 4.5" folded). 
WNYMBA's mission is to enhance opportunities for mountain bicycling in Western New York through designing, building, and maintaining sustainable shared-use trails, and through promoting responsible use of these trails.