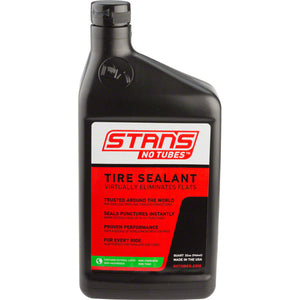 Stan's NoTubes Tubeless Tire Sealant - 32oz
Regular price $34.00 Sale
Stan's NoTubes Sealant is a thin, low viscosity liquid that coats the tire interior and seals punctures quickly. Two ounces of Stan's in a tubeless tire can repair punctures up to 1/4" to keep you rolling. Stan's Tire Sealant is formulated to stay liquid in tires for up to seven months. Arid conditions require more frequent monitoring of sealant levels, but anti-freezing agents in our special formula allow Stan's Tire Sealant to be used in temperatures as cold as -30° F. One quart can convert up to 16 tires.
Suitable for use in tubeless tires and standard tubes
Designed to seal punctures up to 1/4
Stable down to -30 degrees Fahrenheit
Non-hazardous, non-corrosive, non-toxic
Contains natural latex
Made in the USA
It all started in 2001, when a rider named Stan Koziatek had an idea. Frustrated with punctured inner tubes and believing mountain bike tires could perform better without them, Stan developed a way to replace inner tubes with a liquid sealant. Stan's system created a tire that sealed itself almost instantly when punctured, but that was only the beginning. With no inner tube, tires treated with Stan's sealant offered more traction, more control, and more comfort. They also rolled faster. The performance advantages were tremendous, and soon racers at the highest levels of the sport were asking Stan to help them go tubeless.