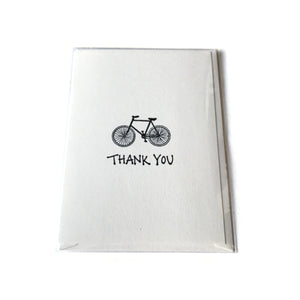 Thank You Bicycle Card
A simple black & white card to say thanks to anyone, and especially a bicycle enthusiast!
Made in the USA.
5 inches high x 3.5 inches wide (when closed).
Rosalind of The Wee Tree Co. started making cards when she couldn't find what she wanted. Requests started coming in from people around her and one after another told her she should have her own handmade card company. She left her corporate job, the paycheck, the benefits and started her own business.

She asks, "In our world where everything is electronic, and most of our mail is bills or junk, how nice is it to find a real, handwritten card among it all?" When once commonplace, now it is a special and thoughtful thing to take the time to hand write a special message to somebody especially when done on a lovely, handmade card.