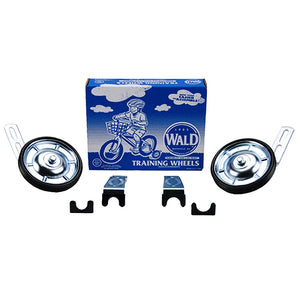 Wald Model 10252 Training Wheels
Regular price $40.00 Sale
Wald's 10252 training wheels are designed to mount on most single speed bicycles with 16 to 20 inches wheels and intended for use by riders weighing up to 100 pounds. These training wheels feature new frame adapters that improve installation.  The new frame adapters enable this wheelset to be mounted on bicycles with .75 and 1.00-inch rear frame tubes. The training wheels can also be mounted onto bicycles with 1.25-inch rear frame tubes when the frame adapters are not used.

Please note:

- In order for Wald training wheels to fit your bicycle, there must be at least 3/8" of axle outside the axle nut on both sides of the rear wheel.
- Wald training wheels are designed exclusively for single speed bicycles. They are not designed for multi-speed bicycles.
- Wald training wheels are designed to be training aids used for a temporary period of time. If the rider has special needs or exceeds the designated weight limits, we cannot recommend our products for their use.
Made in the U.S.A.
The Wald Cycle Company began back in 1905 with its successful Tire Repair Tool.  They have been making their sturdy metal baskets and other bicycle accessories in Maysville, Kentucky since 1924.