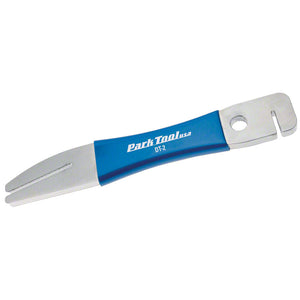 Park Tool DT-2 Rotor Truing Fork
Regular price $20.95 Sale
Specially designed, and precisely manufactured to gently adjust bent or damaged brake rotors.
Features two different slot depths laser cut from high quality steel
Centered handle is vinyl dipped for comfort
Made in the USA.
The co-owners were hands-on bicycle repair folk back in the 1950s when bikes were simpler.  Starting in the 1960s, bikes started getting more complex and the need for purpose-specific bike tools arose and Howard and Art met that need.  Now more than 50 years into its journey, Park Tools is still developing and producing some of the finest bicycle tools in existence.